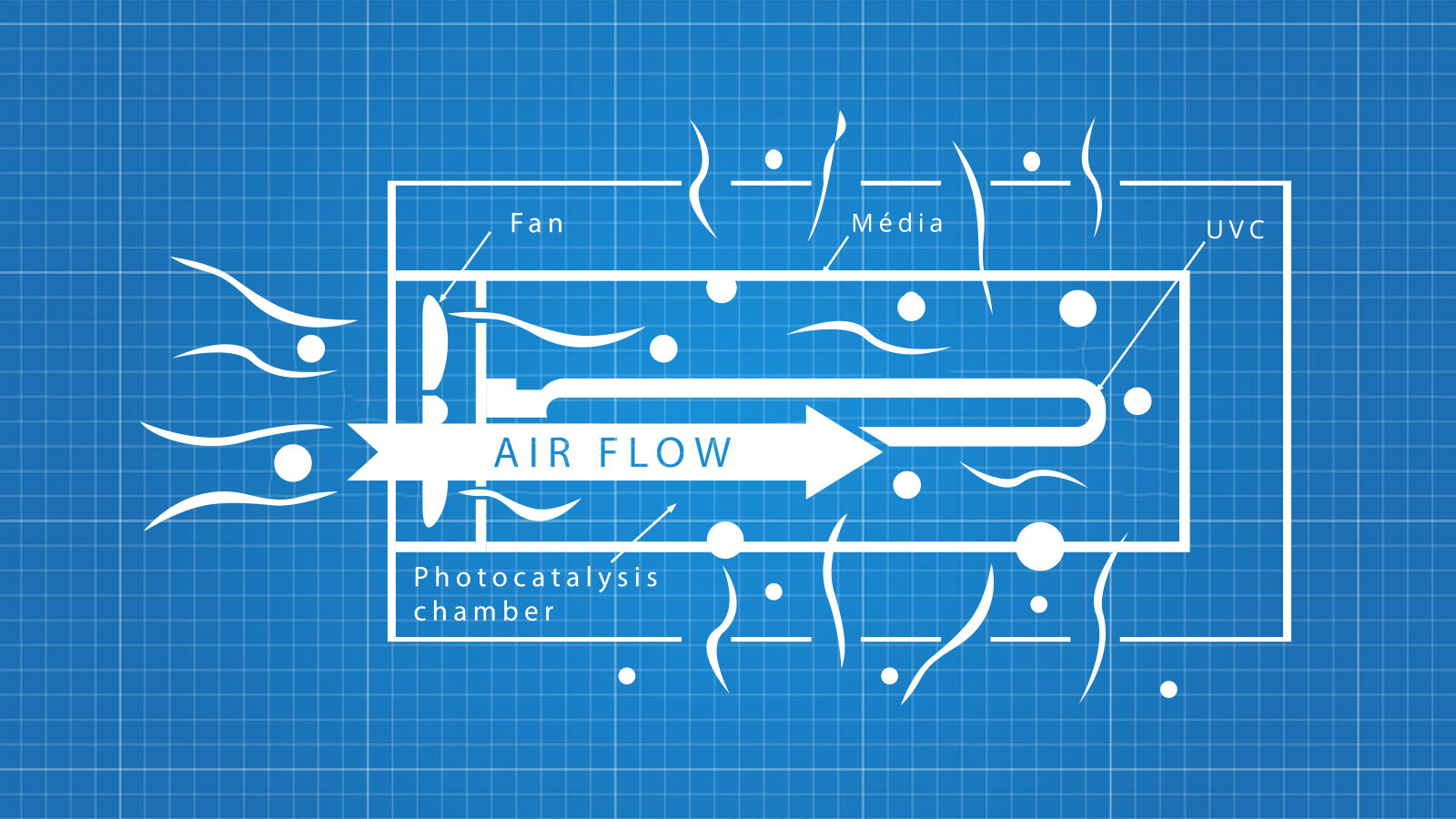 How does photocatalytic air purification work?
Photocatalysis, a natural redox phenomenon
Photocatalysis is a natural redox phenomenon involved in photosynthesis. In concrete terms, it involves creating transfers of oxygen atoms to transform pollutants into basic elements.
By recreating the ideal conditions for powerful and functional photocatalysis in compact, transportable and usable anywhere, we have made air purification possible, everywhere.
We haven't invented light. We just reinvented the way it is used.
How the OXYMORE photocatalysis works
Photocatalysis is achieved by activating a media that absorbs ultraviolet (UV) light.
It is an oxidation technology where the molecular chains of pollutants in the atmosphere are broken down into their basic organic elements as they move between the UV light and our ULTIMATE media.
This technology continuously purifies the air and fights the spread of pollutants by eliminating micro-organisms or bad odours carried by the air.
DESTRUCTION RATHER THAN FILTRATION
At IDR we were tired of buying and changing filters, and we found it absurd not to be able to control the air quality in real time. So we developed an alternative technology, producing true active air purification that is both effective and sustainable: OXYMORE Photocatalysis.
Traditional Filtration
In the air there are traces of pollutants, virucides or bactericides that are too small to be captured by filters but not by your lungs.
The filters have to be changed regularly as they are saturated with dangerous products.

Purification by photocatalysis
Photocatalysis doesn't store, it DESTROYS.
Less filters consumed, your space remains purified and so does your product.